Fashion Friday: Cotton - Hollywood Picks It For Smart Costumes 1933 [ Weekly Feature ]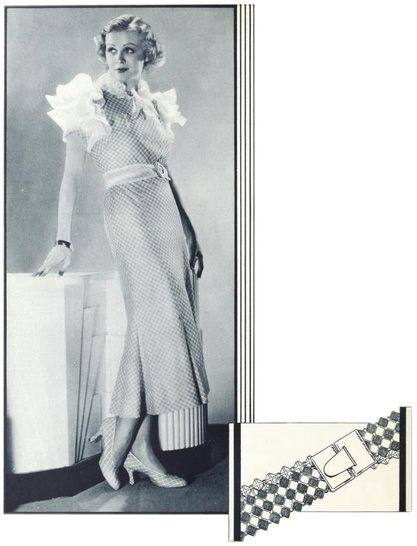 Everyone is picking cotton this summer - especially Hollywood. Gloria Stuart wears this delightful red and white gingham in her new picture called "It's Great to Be Alive." It's youthful and cool looking with a high collar of white organdie ruffles, tying in a bow at front. An undersleeve of white organdie is edged with gingham and topped by three organdie ruffles. Gloria's belt is organdie with a white buckle - shoes to match her dress.

Mesh belt are smart accessories for your summer dresses. One of the newest designs is sketched above. The mesh is formed by alternating squares of pastel enamel and silver, the clever buckle is silver. You will be charmed with the variety of costume colors to be had in these - blue, green, white, and others.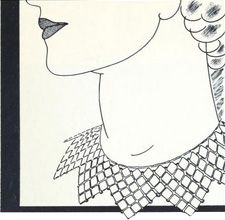 Some would call this a necklace, but it is really more like a collar that fits snugly about the neck. The mesh is the same as that in the belt except in solid colors without the silver. It comes in matching colors so that you may form a very smart ensemble with the two pieces. Grand with higher necklines.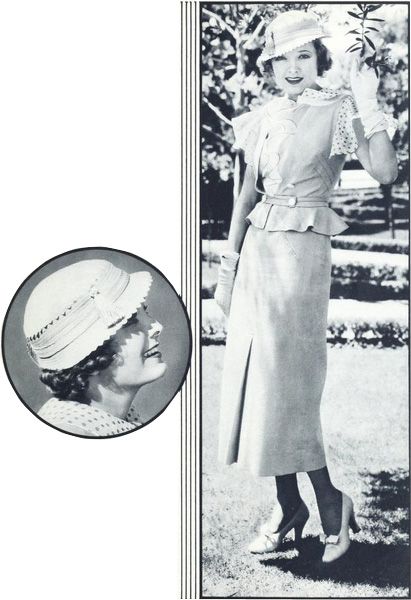 Marian Nixon wears this attractive blue piqué hat with the dress shown at the right. It is a sailor with the brim turned up at the back. Ric-rac braid and blue tassel make the interesting trimming.

Marian's dress is another type of cotton which you should have in your wardrobe this summer. The blue piqué skirt is topped by a sleeveless jacket of the same. Blue and white polka dotted sleeves and collar on the organdie blouse add a crisp accent. The frill down the front of the blouse and the under collar are piped in blue. Rita Kaufman designed this for "Five Cents a Glass."




Bebe Daniels is a blithe young poster artist in "Cocktail Hour" and this is one of the good looking costumes she wears. It's a white coat, designed by Kalloch to look coachman-like. The sleeves puff out to give that "tray" shoulder effect. A pert overseas cap! Bebe's brunette hair and the dark scarf contrast perfectly with her smart white outfit.

You have no packing worries if you use this new lightweight luggage designed for air travel. Each case weighs less than three pounds, yet the capacity is marvelous. Fabric with zip top.

What could be cooler or more useful than this trim white suit worn by Lilian Bond? A navy blue and white printed blouse gives the smart dark-with-white accent. Lilian's jacket buttons down the front and has two clever "reefer-like' pockets on either side. A Nancy of Hollywood model.
Another grand summer suit is this one in new silk linen which Ruth Hall will wear in "I'll Be Hanged if I Do." The jacket, slightly fitted, fastens tuxedo-fashion in front. The bright plaid blouse has a jaunty scarf collar. Another design by Nancy of Hollywood.