Spring care of the face - 1941
Now that it's slowly becoming spring and a real Dutch housewife starts with the spring cleaning, we have to talk about the spring care of the face. Our facial skin has suffered much over the last winter, it is therefore necessary, that it is properly restored.
So, we start to wash the face and neck with good, warm water in which a spoon of Borax is mixed. After we have pat the face and neck dry, we put a bathing cap on, or tie a cloth around the head, and we take a delicious steam bath. To do this, we use a bowl of piping hot water and keep the face as close above it as possible, after we hung a towel over our head in such a way, that it also hangs over the bowl, so that the steam cannot escape. One does this for 8 minutes and while doing so, keep the eyes shut.
Keep in mind that you will get very hot while doing so, but this is necessary, as the pores will open and the dirt comes out. If the 8 minutes are up, rinse the face with cold water and dry it with a soft cloth.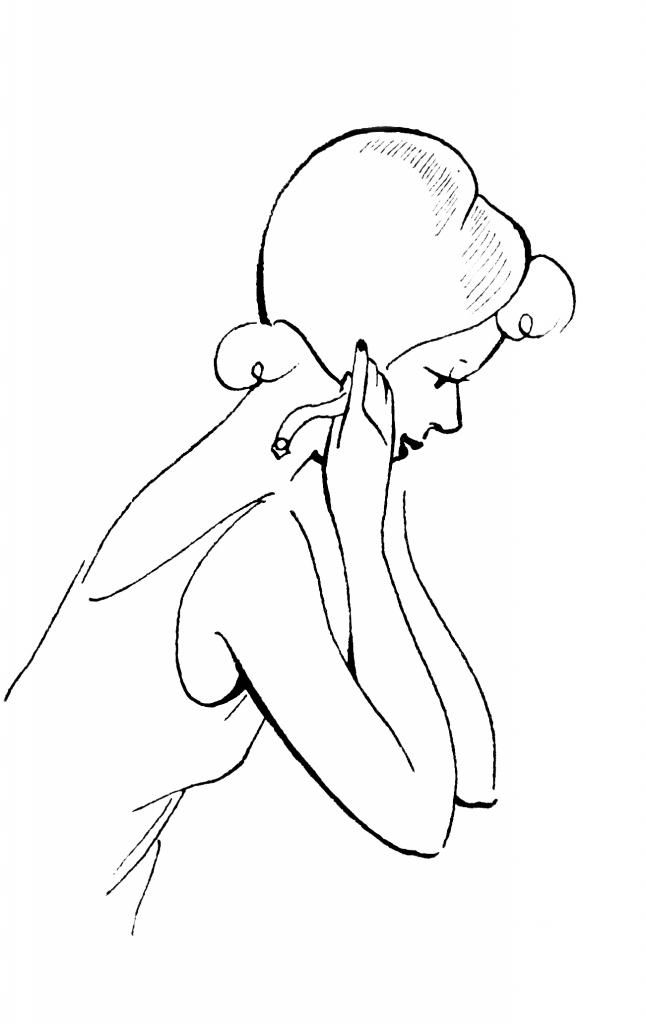 Now we start a gentle massage and, it goes without saying, that we use, for example, a good cream such as creme jeunesse. You mustn't take a large amount of cream, but only slightly on the fingertips and gently rub it into the skin. Don't rub too hard on your skin, I have already said this on many occassions, and massage the skin rearwardly, thus the cheeks to the ears, forehead to the temples. Do not rub the skin around around the eyes, but one should tap it gently. The cream should be rubbed into the skin completely, so you understand: use little cream!
For night use, there is an excellent oil, which has the advantage that is even more economical than cream, as it is liquid. This cream is called "Huile Cléopatre". Use a tiny bit of this cream on the fingertips and rub the whole face. It is an ideal skin nutrition, something which is very important especially in this cooler spring season.
I would recommend everyone to keep the skin up to the mark. There is an oxygen mask, which has a strong regenerating effect on a tired skin and which closes dilated pores. The teint will become beautiful, becomes refreshed, white and soft. The mask is a dry powder mixed into a pasta with distilled water and then lubricated onto the face and leaving it to dry.
To benefit this mask as good as possible, it's best to lie down flat. It will only take 10 minutes of your time, but by lying down the face will come to rest. If it has dried well, than wash it off with lukewarm water, and it goes without saying that one applies this mask after a steam bath.
Another mask, which is economical and has a stimulating effect, is fuller earth. You take 3 teaspoons of fuller earth and mix this with 4 teaspoons of warm milk, and lubricate the paste on your face, and use it further as described above. However, the fuller earth has not the same effect as the oxygen mask.
A masks pulls and itches a little, but do not touch it, you must let it dry quietly. After rinsing and drying the face, treat it with cream and don't forget to massage the neck aswell. Start under the chin and work backwards.
And finally, young women who are annoyed with a shiny nose, the flaw that often occurs in the summer, use nose lotion! A trickle of this infallible liquid, rubs one only on the skin of the nose, letting it dry and then apply a little bit of powder! But just a little bit!
Notes:
Fuller earth is a disinfectant powder and can be bought at the nature shop.