Make-up tips from the 1940s
November 30, 2012
Janet Blair, 1948
Initially people thought of make-up (just like they thought about fashion) that it was too frivolous for a serious consideration in wartime.
Home notes
of December 1939 wrote:
"Artificial make-up is, for the moment, at any rate, quite "out". The movement for natural colouring started before the War, but there is no doubt that existing conditions have helped to encourage the fashion to look naturally glamorous rather than artificially".
But it didn't take long before the cosmetics industry came back. By February, 1940, Tokalon powder was advertising new colours:
"The Paris fashion shows reveal that this season's clothes demand entirely new complexion tones ... these very latest powder shades have been rushed to England ... "Rose Peach" is a subtly different rosy glow, lovely for blondes and mid-brunettes with fair complexions. "Rachel" is a true skin-tone shade for medium skins - neither very fair nor very dark. "Brunette" - a richer, warmer shade will make any dark-haired girl look seductive"
Winter Make up tip from the magazine
Woman,
December, 1940:
"Be careful with lipstick in winter. No orange shades, please, and no cyclamen ( an orangey pink ) unless you're quite positive it doesn't make your skin look blue. It's much safer to stick to clear reds and pinks, and, it's wise to be a little more sparing than usual. But don't think that lipstick off altogether will make you look warmer. The reverse, in fact, be true, because colourless lips nearly always look cold and cheerless, and are inclined to give the face a pinched appearance, which is the very thing you're trying to avoid"
Make up chart: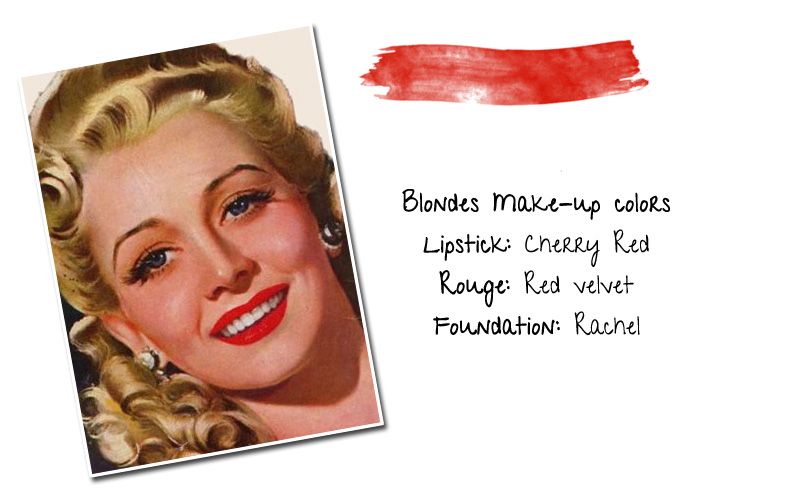 The Lady's Companion, February, 1940:
"Mascara was only used on the upper lashes. If you could not get mascara, there were substitutes - a soft blacklead pencil, or even moustache wax, boot polish, or burnt cork, then: When the mascara has dried, take up a spot of brilliantine or vaseline on your brush and trace it lightly over the brows to soften the effect."
Woman and Home,
January, 1945:
"For parties ... smear a little brilliantine or cold cream on your lids to make your eyes look larger!"